Naples, Florida is a beautiful city that always has something going on. This month is no exception, with plenty of fun events and activities to enjoy! Here are some interesting highlights that we've discovered for you: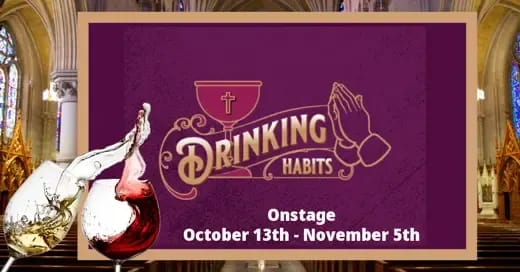 1. Drinking Habits - A Laugh-Out-Loud Farce
When: October 13 - November 5, 2023
Matinee performances @ 2 p.m. and evening performances @ 7:30 p,m.
Where: The Belle Theatre, 2708 Santa Barbara Blvd. Suite 135, Cape Coral, United States
For some fun, check out this fun performance that will leave you gasping for air!


The Belle Theatre is presenting "Drinking Habits" - a side-splitting live performance that takes you on a hilarious journey filled with accusations, mistaken identities, and romance.


The two nuns at the Sisters of the Perpetual Sewing as they try to keep their convent's doors open with their secret wine-making skills. But when Paul and Sally, former fiancées turned reporters, start to investigate, things take a wild turn. Disguised as a nun and a priest, they soon have the entire convent in a frenzy thinking that spies from Rome have arrived to shut them down. Add a new nun to the mix and you have a recipe for comic disaster! Who will survive the chaos?


Tickets: $25 for adults -- Student tickets available for $15 with valid ID


Learn more about this event: https://thebelletheatre.com, or
[email protected]
, call 239-323-5533!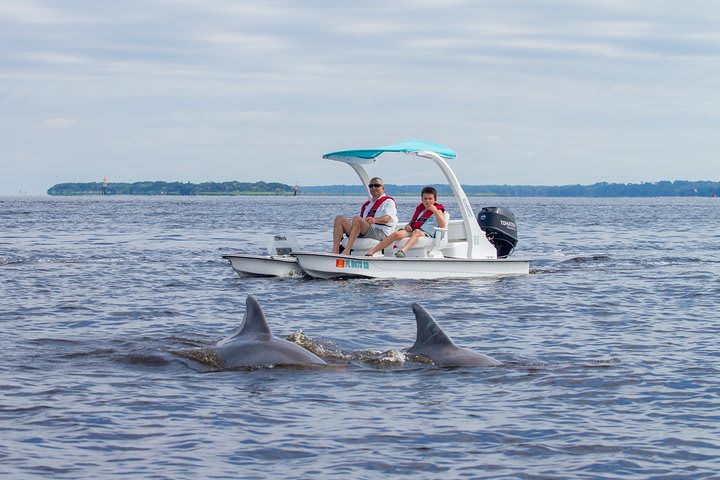 2. Drive Your Own 2 - Seater Go Cat Boat from Collier-Seminole Park
When: Daily 9 am – 6 pm | Attraction Duration: 3h | Ages 5-80, max of 8 per group | 239-478-4099
Where: Collier - Seminole State Park. 20200 Tamiami Trail East (HWY 41) Naples, FL 34114

Experience a fun-filled day exploring the thousands of islands around Marco Island by Go Cat boat.
Guests receive detailed instructions on how to drive the boat and follow the guide on this 2.5-hour scenic tour around the backwaters of the famous 10,000 islands. These two-person fiberglass boats are perfect for every boater, experienced or novice, to drive and maneuver with ease.
As you navigate through the mangroves, keep your eyes peeled for dolphins, manatees and various birds. To ensure your trip is both refreshing and excellent, a cooler with ice-cold water is included, and your adventure is captured in free pictures.
After exploring the serene mangroves, continue to the Gulf of Mexico's edge, where you'll stop at a private island for 30 minutes of swimming and shelling!
Learn more about this event: https://gocatsonthewater.com/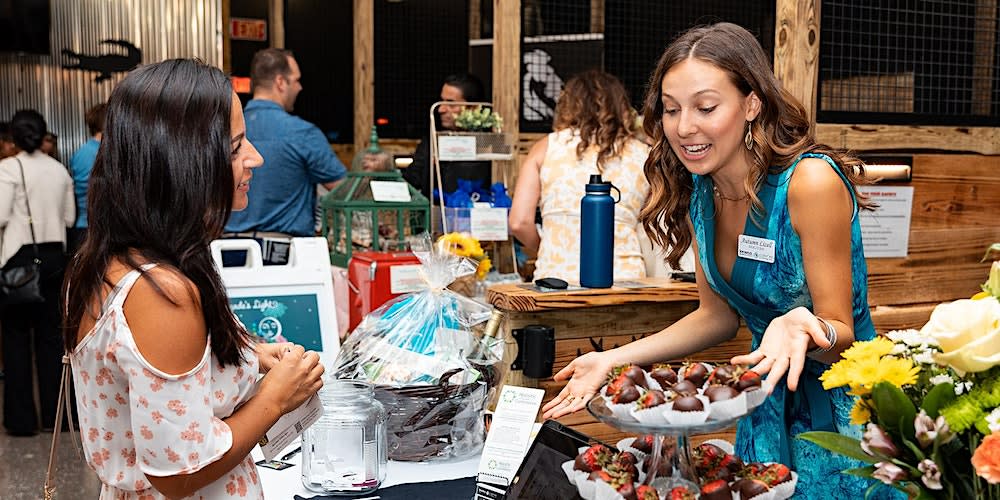 3. Let's GROW In Health
When
: Wednesday, Nov 1st, 2023, from 5:00 pm to 8:00 pm
Where: Growing in Health Florida, 7211 Vanderbilt Beach Road, Naples, FL
Get ready to cultivate a sense of overall well-being at the Let's GROW In Health event taking place on November 1st.
Join high-vibrational wellness enthusiasts and like-minded business owners for a day of exploration and education. The event offers a Wellness pop-up market + open house where community members from near and far can connect with experts in the wellness industry and enjoy samples from local vendors. Hosted by the founder of Breaking Boundaries, Renee Manzolillo, and featuring guest speaker Hans Doherty, owner of Growing in Health Florida, the day promises to be an immersive experience.
You'll have the opportunity to grow your mind, body, and spirit while mingling with fellow professionals and engaging with Catherine Muratori and Five Elements' Silvia Oueda. Don't miss out on this day of wellness and growth!
Tickets for Let's GROW In Health. FREE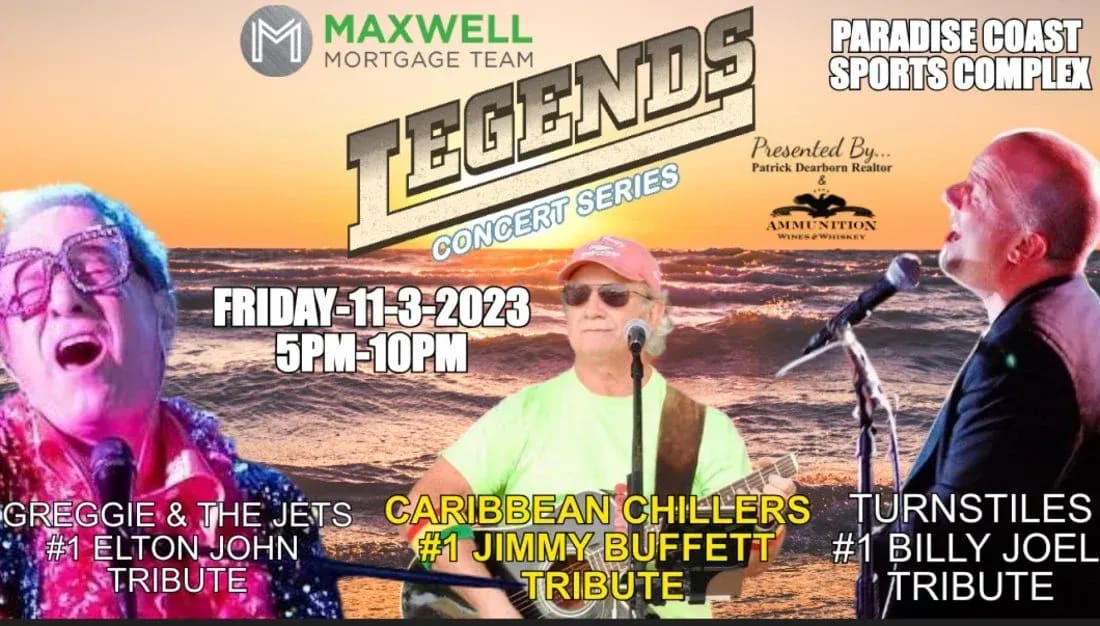 4. Legends Concert Series with Jimmy Buffett-Billy Joel-Elton John #1 Tribute Concerts
When
: Friday, November 3rd, 2023, at 5:00 pm to 10:00 pm
Where: Paradise Coast Stadium, City Gate Blvd S, Naples, FL,
Get ready for a musical experience like no other! The Maxwell Mortgage Legends Concert Series is bringing you the best #1 tribute band in America, featuring the music of legendary artists like Jimmy Buffett, Billy Joel, and Elton John.
RULES: No outside food, drinks, or coolers allowed.
PARKING: Free Parking.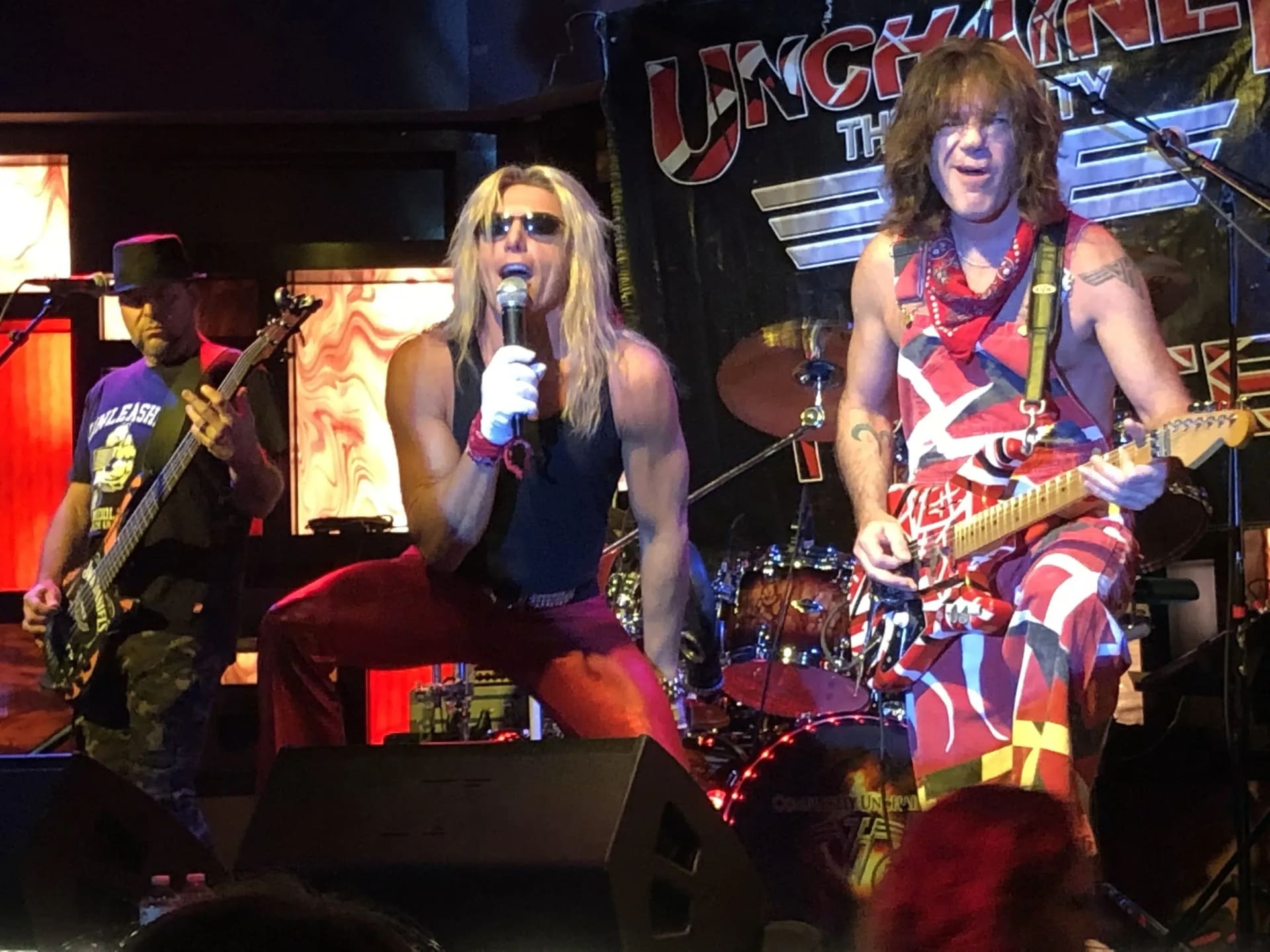 5. Completely Unchained - A Van Halen Tribute Band
When
: Sat November 4th, 2023, from 8:00 pm to 10:30 pm
Where: South Street - Founders Square, 8845 Founders Square Drive, Naples
Van Halen was one of the quintessential rock bands of the late 70s and early 80s, and their music and legacy live on through some of the best tribute bands out there.
This talented group of four musicians, known as, Completely Unchained, know how to put on a show, and they're bringing their incredible tribute act to Naples, FL for the very first time at South Street. True fans of the band will love the way they recreate the attitude, energy, sounds, excitement, and most importantly the fun that Van Halen produced during their heyday.
Let yourself be transported back to the golden era of rock n' roll and see Completely Unchained in action. Get ready to party like it's 1984!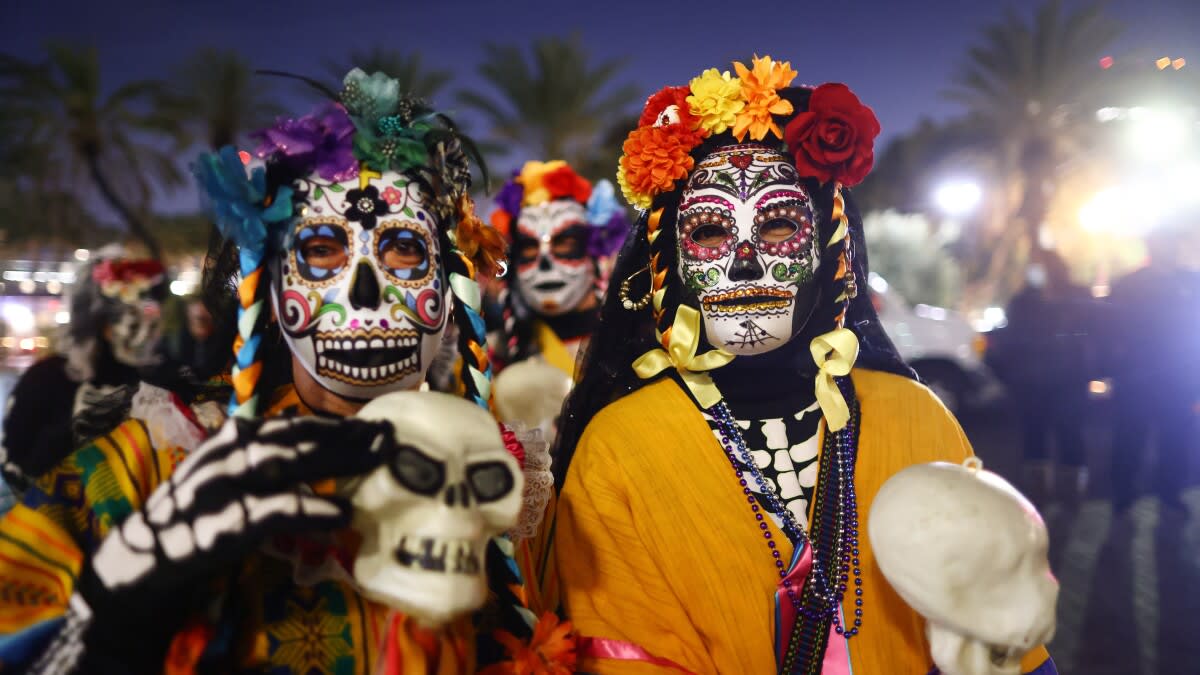 6. Día de los Muertos / Day of the Dead
When
: Friday, November 3rd, 2023, from 5:00 pm to 8:00 pm
Where: The Ritz-Carlton Naples, Tiburon, 2600 Tiburon Drive, Naples
Adults: $131.25 | Children: $68.75TICKETS INCLUDE One buffet admission, welcome beverage, non-alcoholic beverage, live music, and children's activities.
Gather your family and friends for an unforgettable evening at Ría, the Latin-inspired restaurant at The Ritz-Carlton Naples, Tiburón, as it honors Día de los Muertos on Friday, November 3, 2023.
With Executive Chef Aldo Novoa Rodriguez at the helm, the resort is sure to dazzle your taste buds with a buffet of modern Mexican cuisine and a signature beverage to complement the celebration. Enjoy live entertainment and immerse yourself in the vibrant spirit of the holiday with face painting and crafts for the little ones.
Día de los Muertos is a time for honoring the memory of loved ones who have passed away, and this festive evening will bring the community together to celebrate the legacy and culture of Mexico.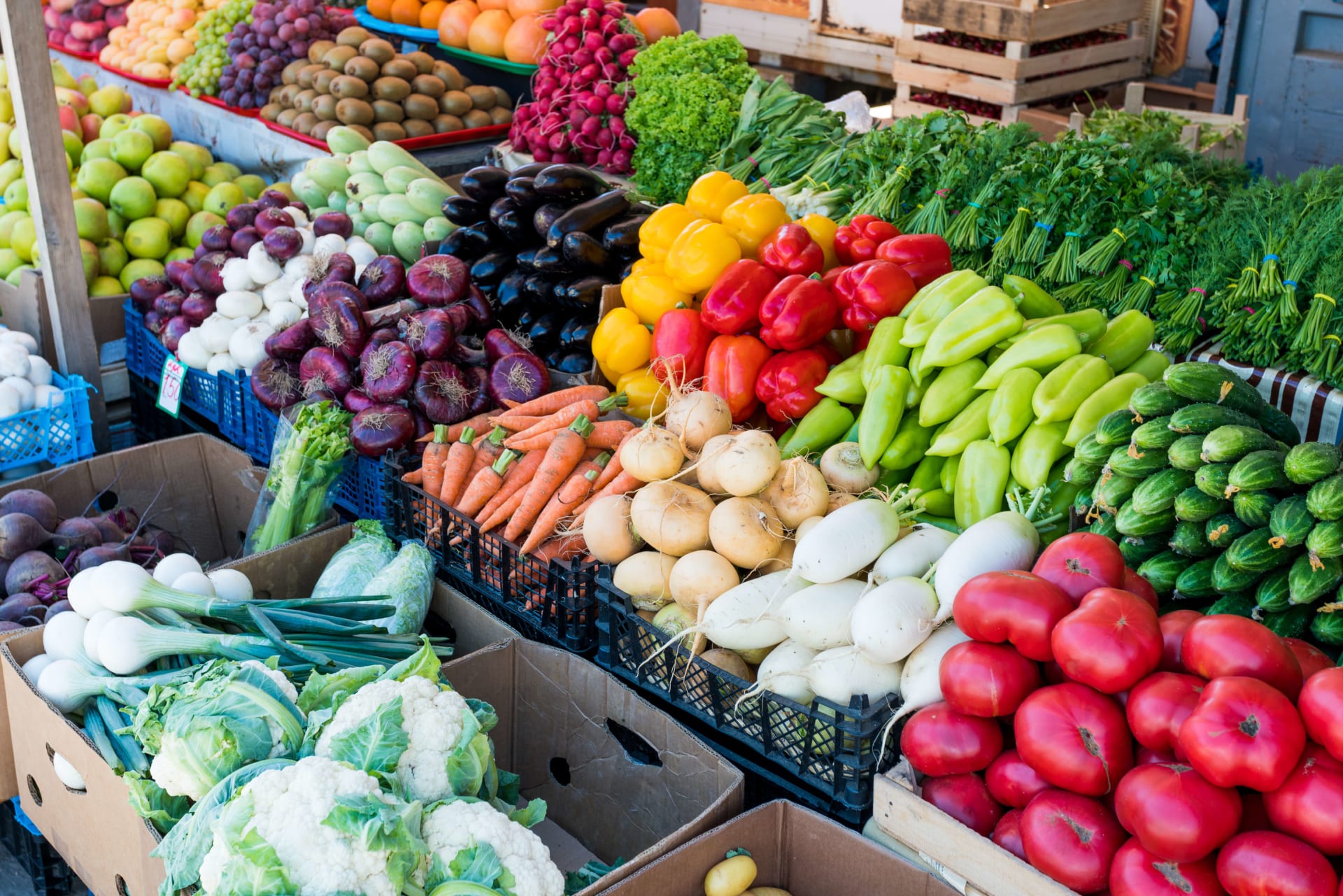 7. Naples Veg Fest 2023!
When
: Sunday, November 12th 2023 from 10:00 am to 3:00 pm
Where
: Sugden Regional Park, 4284 Avalon Drive, Naples

FUN Outdoor Festival w/ Free General Admission + lots of food, products, and services exhibitors + presentations ALL DAY! Fun for all ages!

Get ready to have some fun in the sun at the upcoming outdoor festival in Naples! The best part? General admission is free! Not only will you get to enjoy a day filled with entertainment and activities for all ages, but you'll also have the chance to browse a variety of food, products, and exhibitors.
Plus, there will be presentations all day long that focus on the benefits of a plant-based diet. Learn from expert speakers, watch cooking demos, and even meet some furry friends at the animal rescue booths.
With all the exciting things happening at this festival, you won't want to miss out on the fun!
FREE Annual Event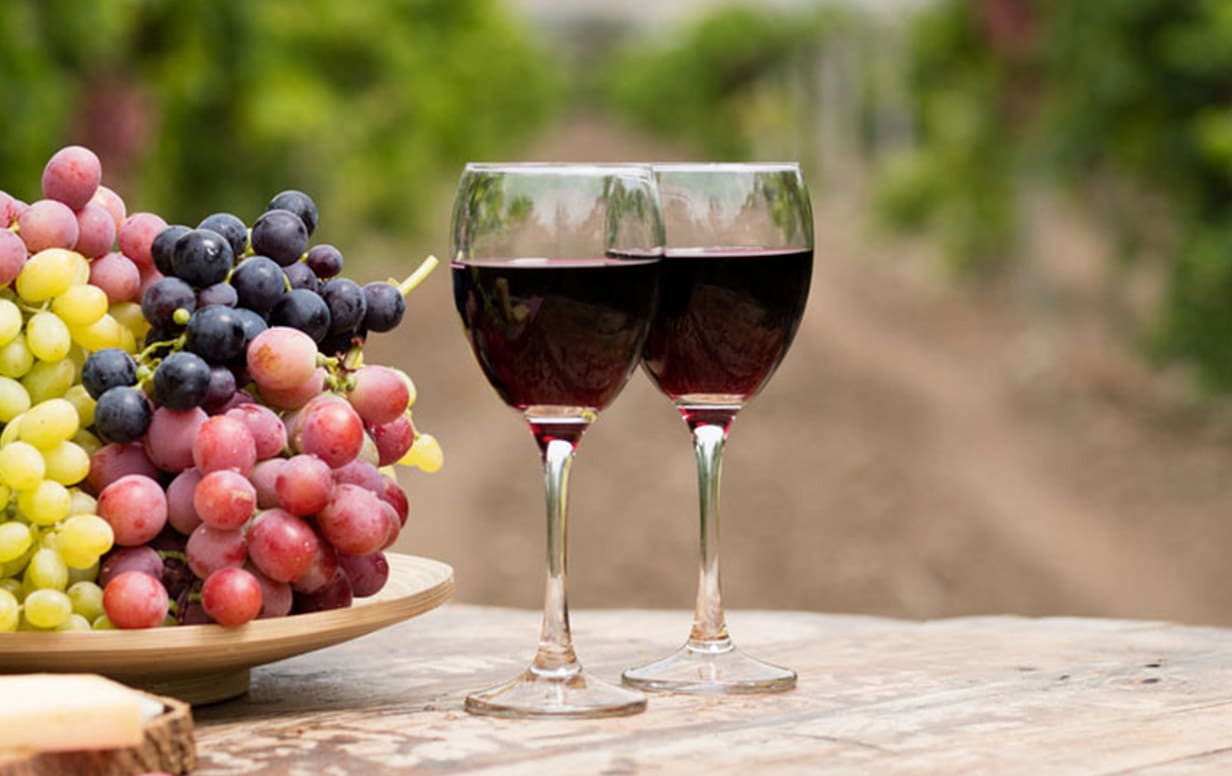 8. Natural and Organic Wine Tasting
When
: Thursday, November 16th, 2023, from 5:30 pm to 6:30 pm
Where
: Caliber Wellness, 1575 Pine Ridge Road, Naples

Raise your glasses and celebrate a night of wellness as the local wellness center hosts a wine tasting event. Indulge in the magnificent tastes of natural and organic wines, expertly curated by a wine connoisseur.
A perfect opportunity to unwind, relax, and mingle with like-minded individuals who share the same passion for health and wellness. Enjoy an array of delicious charcuterie, cheers to a good time, and fuel your senses with the divine combination of nature and wine.
Tickets for Natural and Organic Wine Tasting can be booked
here.https://www.facebook.com/caliberwellness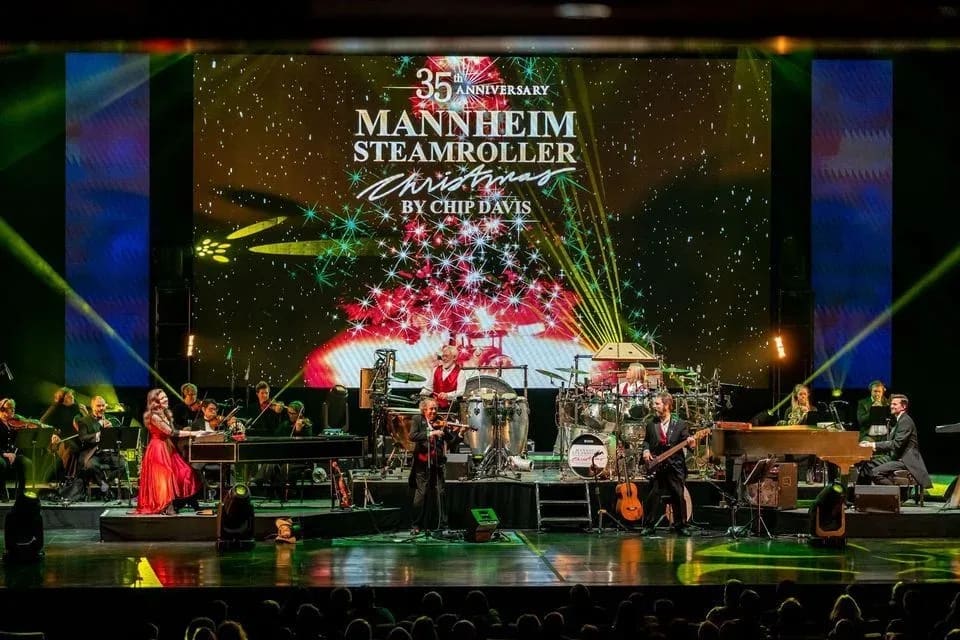 9. Mannheim Steamroller Christmas Tickets Naples FL Artis-Naples
When
: Friday November 17th 2023 from 9:00 pm to 11:00 pm
Where
: Artis—Naples, 5833 Pelican Bay Blvd, Naples, FL

Get ready to kick off the holiday season in style with Mannheim Steamroller Christmas at the Artis-Naples in Naples, FL on Friday, November 17, 2023.
This is a show you won't want to miss! Mannheim Steamroller is a band like no other, blending Christmas classics with a modern twist that will have you cheering for more. With incredible music, stunning visual effects, and a holiday spirit that will leave you feeling warm and fuzzy, this is the perfect way to get into the holiday groove.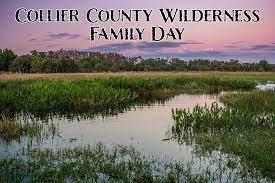 10. Collier County Wilderness Family Day
When
: November 18, 2023, from 10:00 am - 1:00 pm
Where: 3331 Tamiami Trail East, Naples, FL 34112
Are you looking for a fun and educational way to explore the natural beauty of Collier County?
Check out this temporary exhibit, "Preserving Collier: 20 Years of Conservation Collier," and join in on the games, crafts, and activities that highlight the public lands and wildlife that call this area home.
Whether you're a seasoned nature enthusiast or new to the outdoors, there's something for everyone to enjoy! Learn about the important work being done to protect these precious habitats and species and have a blast while doing it.
This event is perfect for families with children ages 5-12, and is free for all to attend. So, drop in anytime between 10 am and 1 pm - no reservations necessary - and discover the natural wonders of Collier County.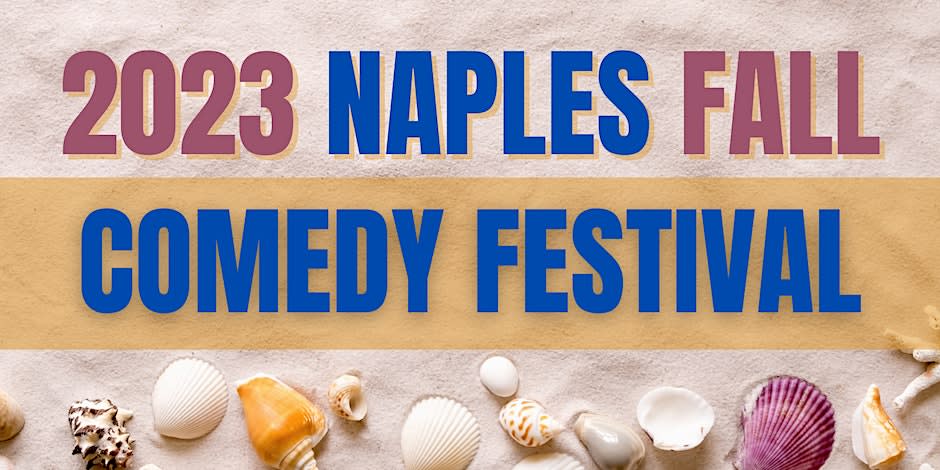 11. 2023 Naples Fall Comedy Festival
When
: Saturday, November 18th 2023 at 08:00 pm
Where: Z's Music Kitchen, 12655 Tamiami Trail E, Naples, FL
If you're looking for a night of non-stop laughs and good times, look no further than Z's Music Kitchen's 2023 Naples Fall Comedy Festival!
With hilarious comedians from all over Florida bringing their A-game, you're in for a Festival Showcase that's sure to have you in stitches. And with a Special Guest emcee and headliner, you can bet that the night will be filled with unforgettable moments.
But be sure to act fast - seats are limited and the price goes up $5 if you wait until the day of the show.
Plus, this event is exclusively for ages 21 and over and requires a minimum purchase of two drinks. Don't miss out on the full dinner menu available to round out your night of laughter.
Let's hope for clear skies so you can enjoy the outdoor setting to its fullest!
To learn more or purchase tickets over the phone call 786-564-2291 or email directly
[email protected]
. All purchases are Non-Refundable. The event is subject to change and cancellation.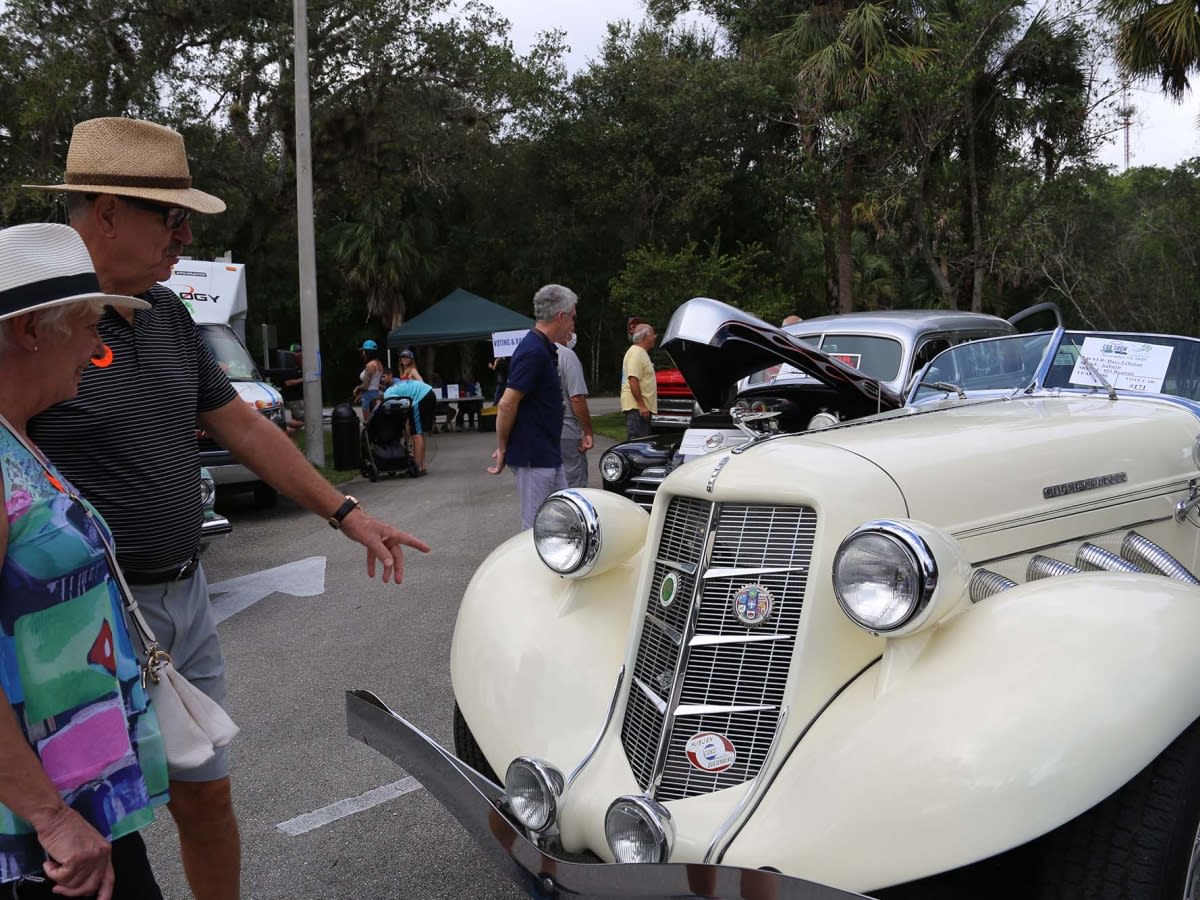 12. 5th annual Rookery Bay Classic Car Show
When
: Saturday November 18th from 10:00 am to 2:00 pm
Where: FSW- Collier Campus, 7505 Grand Lely Drive Naples, FL
Car enthusiasts, listen up! If you're looking for an exciting event to attend, look no further than the annual car show coordinated by Island Automotive in support of Friends of Rookery Bay.
This year's event promises to be bigger and better than ever before, featuring over 100 pre-1930's antiques, 40's & 50's classics, and 60's & 70's muscle cars.
But that's not all - there will also be food trucks and family-friendly activities for all ages to enjoy.
So why not spend the morning browsing the stunning collection of vehicles before sitting back and watching the award ceremony at 12:30 pm.
And all for a great cause - what could be better?
Remember to register your car in advance to secure your spot. If you have any questions, call Island Automotive at 239-394-1887. Don't miss out on this fantastic opportunity!
Cash-only admission is $10 for adults, $5 for ages 3-12 and free for children three and younger. Car show attendees will receive a free pass to visit the nearby Rookery Bay Environmental Learning Center by Dec. 30, 2023.

For more information, visit https://rookerybay.org or call 239-530-5972.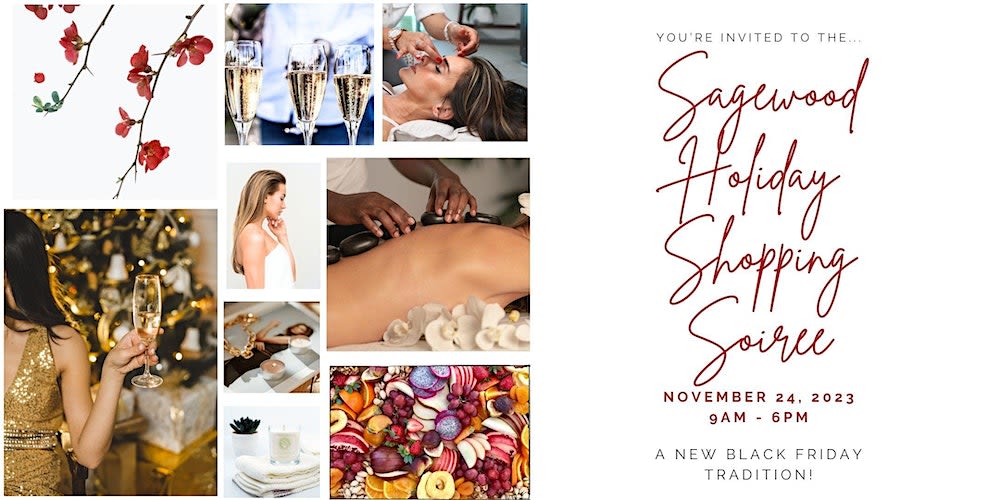 13. Sagewood Holiday Shopping Soiree
When
: Friday November 24th 2023 from 9:00 pm to Saturday November 25 2023 at 6:00 pm
Where: Sagewood Institute, 801 Anchor Rode Drive, Naples
Experience the ultimate pampering at Sagewood's Soiree event! Indulge in a luxurious complimentary mini-facial and discover the latest advancements in the world of cosmetics.
Immerse yourself in a world of relaxation and rejuvenation with the wide variety of beauty and wellness services, including massages, PRP treatments, IV therapies, and lash extensions. Take advantage of the exclusive once-a-year savings and enjoy a 25% on all of the services and products during the event.
Spend your day shopping for gifts and yourself, sipping champagne, snacking on charcuterie, and socializing with friends.

Guests will have opportunities to purchase items and raffle tickets to benefit Cancer Alliance Network of Naples, a nonprofit that provides support to cancer sufferers. Other special drawings and giveaways will be included. Mark your calendar now — you don't want to miss out on this exciting event at the top wellness spa in Naples!
The event is free, but space is limited, and an RSVP is required. Please register by Nov 17th or call 239-434-9710 to make special arrangements.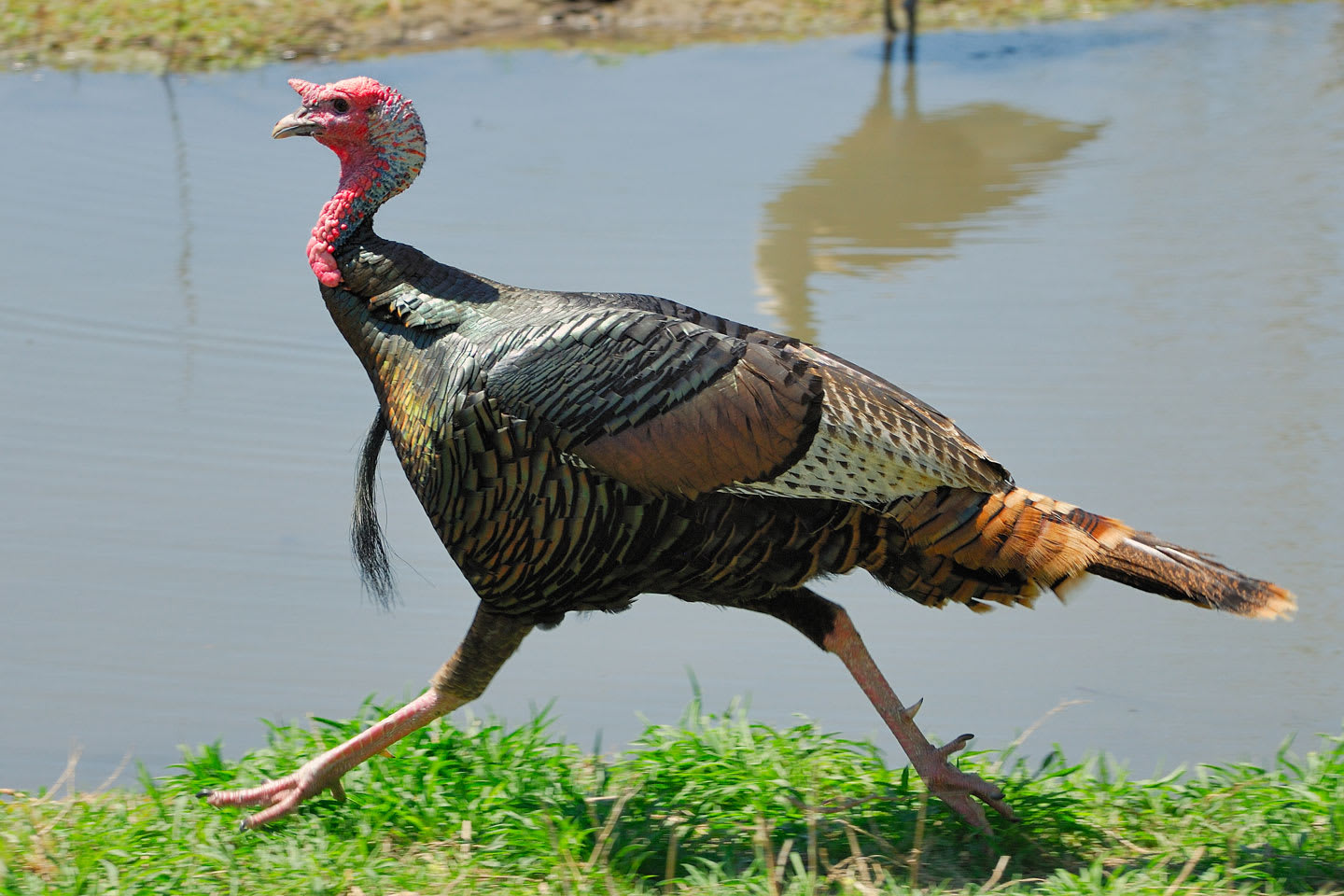 14. Turkey Trot | Tiburón
When
: Thursday November 23rd 2023 from 8:00 am to 12:00 pm
Where: The Ritz-Carlton Naples, Tiburón, 2600 Tiburon Drive, Naples
General Admission: $25
Lace up your running shoes and join the annual holiday fun run!
This event is open to everyone, regardless of age or fitness level. Whether you're a seasoned runner or just starting out, you are welcome to join the event and race for a good cause.
This year, they have partnered with the Children's Miracle Network Hospitals, a nonprofit organization that works tirelessly to raise funds and support children's hospitals across the U.S. and Canada. By participating in the race, you'll not only get a great workout, but you'll also be contributing to this amazing cause.
And who knows? You may even take home a prize if you're one of the top three runners! Remember, the race begins at 8:00 a.m., so don't be late. See you at the starting line!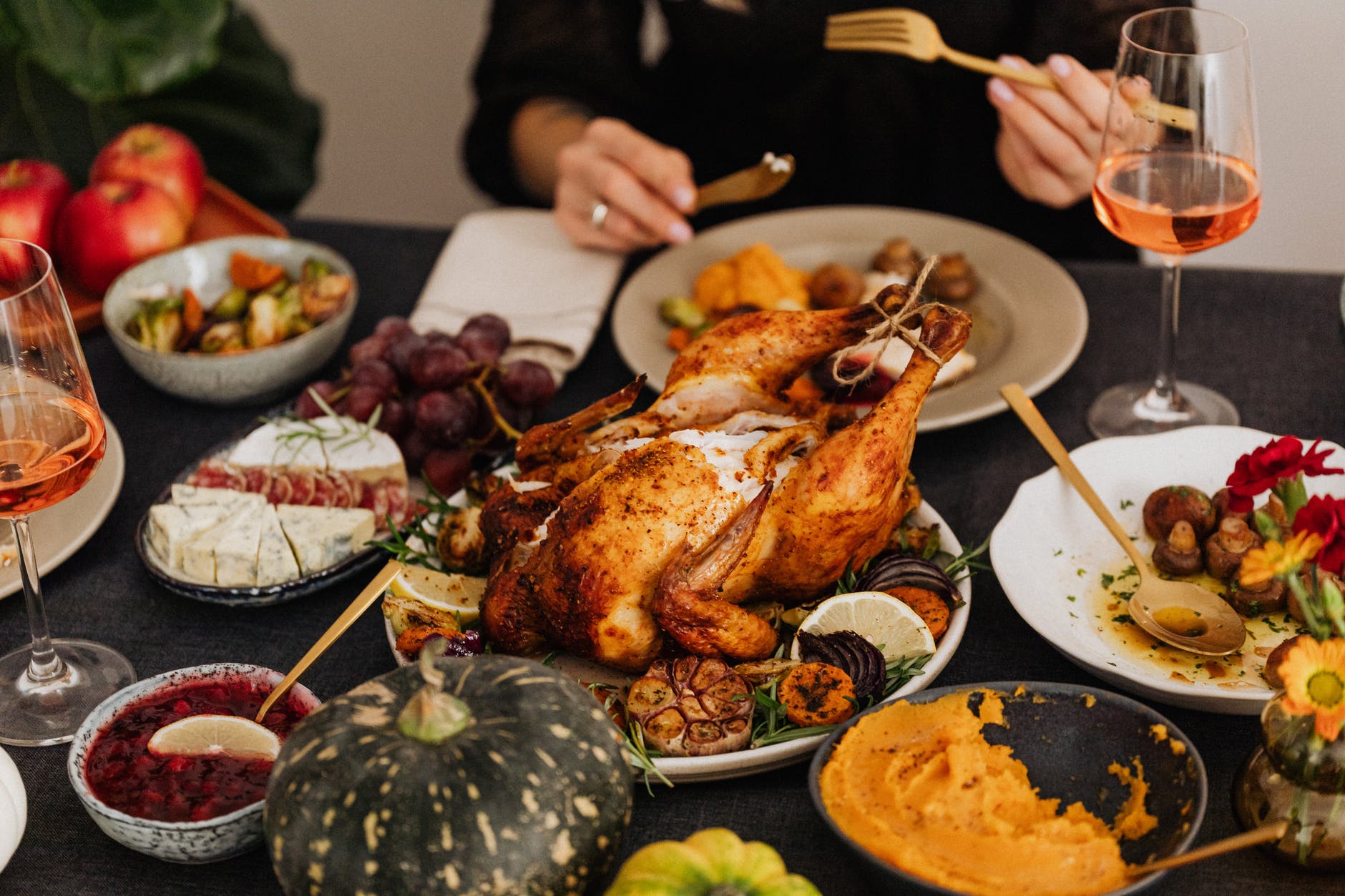 15. Thanksgiving Grand Buffet
When
: Thursday November 23 2023 from 11:00 am to 6:00 pm
Where: The Ritz-Carlton Naples, Tiburón, 2600 Tiburon Drive, Naples

There's no better way to spend Thanksgiving than feasting on a spread of traditional holiday favorites.
At The Ritz-Carlton Naples, Tiburón, guests can indulge in a delightful buffet of roast turkey, prime rib, and an array of entree action stations under the expert direction of Executive Chef Aldo Novoa Rodriguez.
Indulge in all of your favorite sides and save room for an extensive dessert table sure to satisfy even the sweetest tooth.
Plus, all guests will receive a complimentary welcome beverage to kick off the celebration.
For younger guests, the children's buffet offers holiday handhelds, fresh vegetables, and a selection of dessert favorites.
With an optional bar package featuring select cocktails, red, white, and sparkling wines, and select beers, it's the perfect way to spend Thanksgiving with friends and family.

PRICING:$165 for ages 13 and up | $65 for ages 3 to 12 | Complimentary for 2 years and underAll tickets and packages will be charged an 18% service charge, taxes, & ticketing fees.

Naples is a city that certainly knows how to keep its residents and visitors entertained, especially this November. From rib-tickling comedy shows to foot-tapping live music performances, there's something for everyone.
If you're a car enthusiast, make sure you head over to the car show where the latest models and vintage treasures will be on display.

And with the holiday season fast approaching, there are plenty of festive activities to take part in, from an exquisite Thanksgiving dinner at The Ritz to Christmas performances. No matter what your interests are, Naples has got you covered with a bustling lineup of events that promises to keep you thrilled all month long!