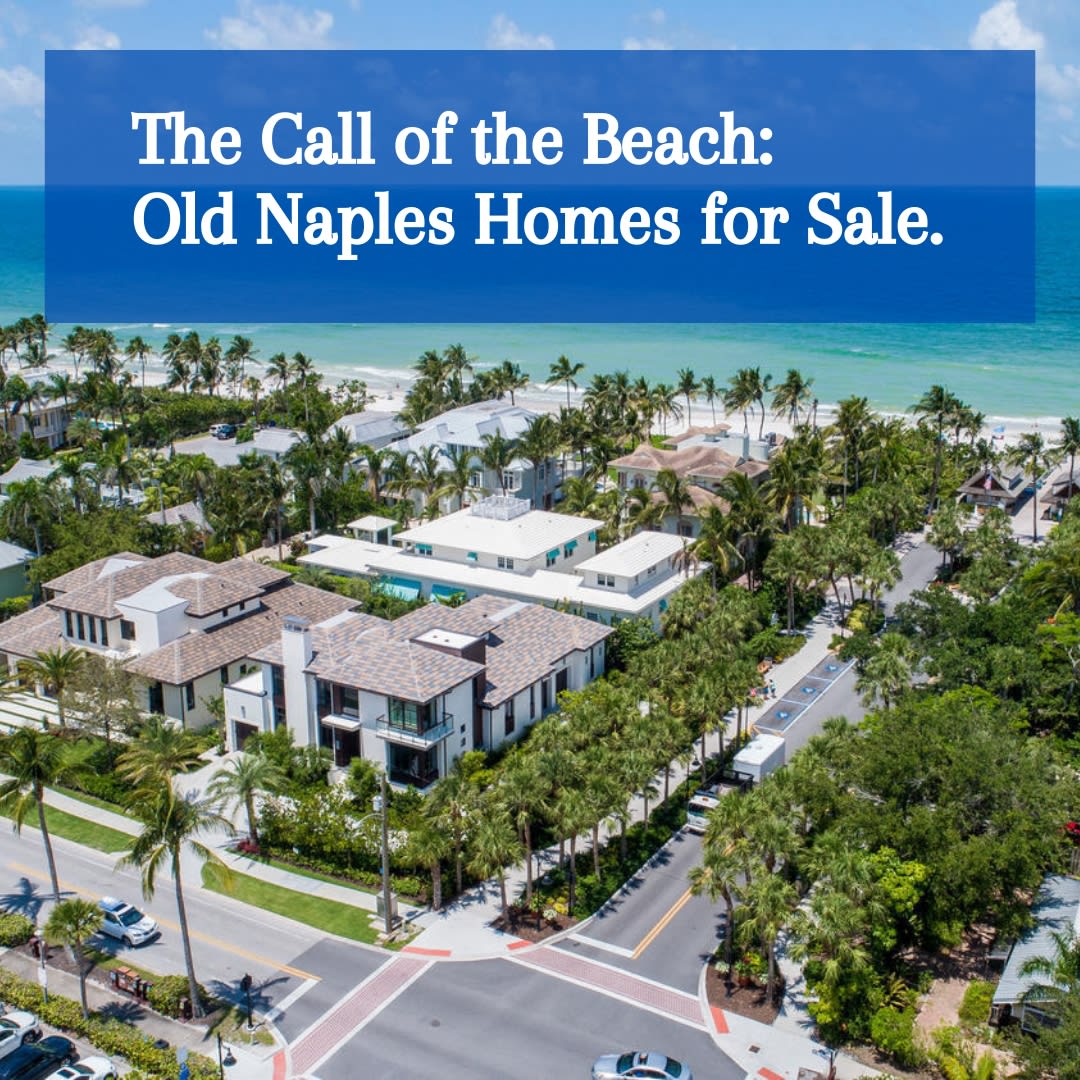 With all that Naples has to offer, it's no wonder tourists and residents are drawn to this beautiful corner of Southwest Florida. For those looking to buy a property, Naples offers distinct neighborhoods, each with unique features and characteristics. Let's take a closer look at one of the most popular neighborhoods, so we can better understand the appeal of Old Naples homes for sale.
Old Naples lies at the heart of the city. First developed in the 1880s, the community is sought after for its central location, its historic charm, and easy elegance. Featuring tree-lined streets, easy beach access, and plenty of waterfront properties, the area is appealing to boaters, beach-lovers, and those who love to get out and enjoy local culture.
1. A Wide Range of Properties
Old Naples is a unique, distinctive community known as the "Heart of Naples". With a wide range of properties, from charming, picturesque cottages and condos to stunning new builds and exclusive beachfront estates, this community is known for its timeless charm and quiet elegance.
With the nuance and variety available in Old Naples homes for sale, be sure to couple your search with the advice and guidance of a trusted realtor who knows the neighborhood inside out. If, for example, you have your heart set on a cottage near the beach, but inventory is low, your realtor can broaden your search to help you find just the right place.
2. Everything Naples Beach has to Offer
If you're considering Old Naples homes for sale, you likely feel the draw of the beach. Naples Beach is famous for its white sand and glorious sunsets. In Old Naples, each street ends at the beach, creating easy access to the water and the essence of resort-style living.
Whether you love the idea of spending the day with your feet in the white sand or imagine watching the sunset with friends, the call of Naples Beach is strong. On nights of celebration — including July 4
th
— Naples Pier is the place to be.
Whether you are watching fireworks, swimming, or sharing a meal with friends, Naples Beach is an idyllic place to spend time with family and friends.
3. Shop and Dine by Day
Part of the appeal of this community, for those looking for Old Naples homes for sale, is its outstanding location. Residents of Old Naples are only a short walk from the upscale dining and shopping of Fifth Avenue.
Spend your day sampling the menus of restaurants such as:
Bar Tulia – featuring upscale pizzas, pasta, and craft cocktails.

Chop's City Grill – famous for its in-house specials, including American, Japanese, and Australian Wagyu steaks.

Truluck's – serving fine seafood and wines in a lively environment.

Many more
If you love to shop, Old Naples will be your happy place. The pedestrian-friendly shopping in downtown Naples includes more than 100 unique shops and boutiques — something for every mood and interest.
4. Enjoy the Naples Nightlife
Of course, the flip side of shopping and dining by day is the buzz of downtown Naples at night. For those searching for Old Naples homes for sale, you may be drawn to the vibrant lifestyle of downtown Naples, only steps from nearby homes.
On Thursday evenings, the Third Street South area comes alive with music. As you explore quaint side streets, charming boutiques, and local shops, you'll be serenaded with live music of all varieties.
If you're in the mood for a night out with friends, you'll enjoy Evening on 5th Avenue Naples, the local nightclub for those in the mood to dance. If a bar is more your speed, you'll enjoy South Avenue Bar, home of delicious tapas and remarkable cocktails.
If a pub is more your style, you'll love Old Naples Pub, a landmark establishment with traditional American fare, live entertainment, and a perfect pub atmosphere.
5. Community Events and Activities
With beautiful weather and diverse local culture, Naples is home to a wide range of community events and festivals throughout the year. Whether you are interested in cars, food, art, or hot air balloons, you'll find a festival to pique your interest.
In Old Naples, many events and activities are hosted at Cambier Park, a vibrant, outdoor social hub for local residents. With over 12 acres of land, Cambier Park is home to events such as Art in the Park and weekly meetings of the Celebration Beach Church.
At the south end of Cambier Park, you'll find the Norris Center, home to the Naples Jazzmasters, a popular Dixieland band, and the site of the Gulfshore Playhouse, a performance theatre for professional productions.
For those looking for Old Naples homes for sale, it's easy to see why the range of community events and activities is a draw. For many, live music or local festivals will be within walking distance. For others, the activity is only a short drive away. Old Naples residents have the luxury of feeling both tucked away and private, while close to the vibrant downtown life.
6. Stroll the Streets
Even on the quiet days in Old Naples, there is plenty to do in town. Residents enjoy strolling the quiet streets by the beach or the pedestrian-friendly downtown, with its upscale shopping and wide selection of restaurants and cafés.
On Saturday mornings, the Third Avenue South area, the birthplace of the downtown Naples community, comes alive with local vendors. The famous Third Street Farmer's Market runs year-round, featuring fresh ground coffee, local produce, flowers, and baked goods, along with hand-made crafts, artisan products, and more.
For those wandering on foot who happen to love art, Old Naples provides plenty of visual treats. You'll find a wide selection of art studios and galleries, from the Naples Gallery and Banyan Arts Gallery to Art on Fifth Ave Naples and Eydel Fine Arts. A short walk through downtown Naples will offer art for every taste.
If you're among those looking for Old Naples homes for sale and consider yourself a history buff, you'll love the Historic Palm Cottage, Naples' oldest home — built in 1895. Now a registered landmark and the headquarters of the Naples Historical Society, the Historic Palm Cottage is the starting point for walking tours of the historic district within Old Naples.
Naples, famous for its white, sandy beaches and luxury real estate, is appealing to visitors and potential buyers alike. Those looking for Old Naples homes for sale have likely discovered the broad appeal of the area and its ideal location between the beach and vibrant downtown community.
With streets lined with coconut palms and banyan trees, Old Naples offers the serenity of a quiet, established beachside community. Coupled with easy access to the beach and downtown dining and culture, it's easy to see why Old Naples is so popular.
If you are considering Old Naples homes for sale, be sure to contact us to discuss your interests. At Hoffman Korff Group, we are residents of Naples and experts in premiere local residential properties. Allow us to help you find your dream property.