You've chosen Naples, Florida for a luxury property. It's no wonder. Naples is famous for its breathtaking waterfront and high-end real estate—a paradise for boaters and beachgoers alike. But there's more to this beautiful corner of Florida's Gulf Coast, including first-class amenities, world-class golf and a wide range of fine dining.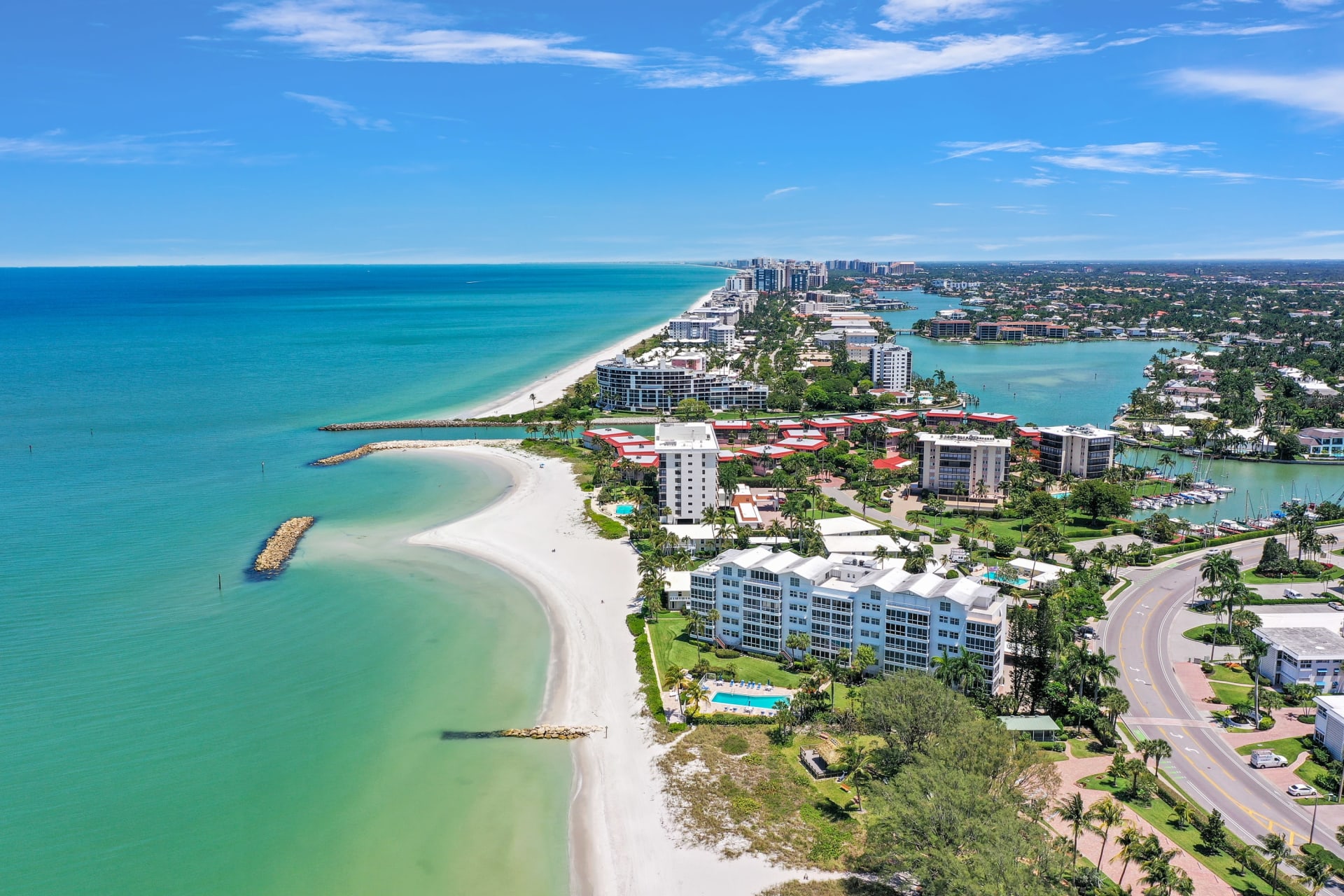 Naturally, when you're looking for a property—whether you're hoping to find a second home for family getaways, a retirement property or a straight investment—you want to know as much as possible about the area. While you'll find exceptional waterfront and amenities throughout Naples, each neighborhood offers its own features and benefits. Here are several of our favorite areas for luxury real estate in Naples, FL.


1. Port Royal
For private, beachfront estates and breathtaking homes, there are few comparisons to Port Royal. One of the most sought-after neighborhoods in the U.S., the narrow peninsulas of Port Royal provide direct access to Naples Bay and the Gulf of Mexico.
The land formation of Port Royal makes it unique among the neighborhoods of Naples. Not only do the peninsulas create a clear sense of privacy, but the homes in the area are distinguished by their size and luxury.
At the center of the Port Royal community is the social hub known as the Port Royal Club. Here, residents enjoy fine dining and more casual meals, while staying active at the beachfront—either in the pool, on the tennis court or in the fitness club.
2. Old Naples
If you've dreamed of living in a neighborhood where every street ends with a beach, you'll fall in love with Old Naples. Combining the heritage of Old Florida with Naples, Florida luxury real estate, this neighborhood offers a wide variety in housing, from charming beach cottages to contemporary new builds and exclusive beachfront estates.


Considered the 'Heart of Naples', the Old Naples area features a wide range of exclusive dining—from fine restaurants and high-end bistros to charming cafés and courtyards. Amidst the streets lined with plenty of coconut palms and banyan trees, you'll also find high-end shopping and delightful surprises. Filled with a sense of timeless charm, Old Naples is a must-have on your list of luxury real estate options.


3. The Moorings
The Moorings is one of the most sought-after areas in Naples. With access to stunning beaches, including a private beach park for Moorings property owners, this neighborhood includes luxury homes and condos with easy access to exclusive amenities. Adorned with first-class shopping, exceptional restaurants and an executive golf course (The Moorings Country Club), The Moorings is an ideal location for both retirees and families.


If you've been thinking about Naples, Florida luxury real estate, be sure to include The Moorings in your list of areas to explore.


4. Park Shore
Located north of The Moorings, in the heart of Naples, is the distinguished Park Shore community. Park Shore offers a wide variety of high-end properties, from single-family homes to condos and residential high-rise apartments.
With its tropical scenery and vibrant Venetian Village core—complete with fine dining and high-end shopping—Park Shore is a highly sought-after community. Park Shore offers access to plenty of waterways that lead to the Gulf. Boaters will fall in love with the abundant marine life and stunning sunsets. Residents also have exclusive access to the gorgeous Park Shore private beach—the perfect getaway, whether you are on your own or with loved-ones.


5. Coquina Sands
Coquina Sands is one of the most popular areas for luxury real estate in Naples FL for a reason. Residents and tourists alike are drawn to the stunning beachfront, with easy access via Lowdermilk Park to open views of the Gulf of Mexico. For evenings out, you'll love the easy access to fine dining, exceptional shopping and the sunsets only Naples can provide.
With plenty of spacious lots, so close to downtown Naples, Coquina Sands is a favorite among those looking for luxury real estate in Naples. Whether you are interested in a beachfront condominium, a luxury family home, or something in between, you're sure to fall for the culture and feel of Coquina Sands.


6. Royal Harbor

Originally planned as a boater's paradise, the Royal Harbor area offers easy boating access to Marco Island, the 10,000 Islands and beyond. While many of the area's waterfront homes boast stunning views of Naples Bay and western sunsets, canal-front homes offer a classic appeal and easy access to the Gulf.
Royal Harbor features both older homes with a classic Florida feel to state-of-the-art new, luxury homes. With plenty of boats anchored along its shoreline, Royal Harbor has maintained its sense of heritage, while evolving into a high-end option for Naples, Florida real estate.
Tucked away on the eastern side of Naples Bay, Royal Harbor offers easy access to downtown Naples and extraordinary shopping and restaurants (think: 5
th
Avenue). The area is also close to Naples Botanical Gardens and the beautiful Naples Beach. While Royal Harbor offers something for almost everyone, it is a slice of heaven for those who love boating.

7. Aqualane Shores
Between Old Naples and Port Royal is the area known as Aqualane Shores. With streets lined with palm trees, Aqualane Shores boasts both breathtaking water views and a wide selection of high-end luxury real estate.
Surrounded by deep water canals, this community is a popular choice for boat owners, as navigation to Naples Bay or the Gulf is made easy. Most properties include private docks and the absence of bridges makes it easy for larger boats to navigate their way to the beautiful Gulf of Mexico.
If you've narrowed your property search to Naples, Florida luxury real estate, you're in for some great decisions. Whether you prefer a quiet family home or a condo, close to restaurants and other amenities, the neighborhoods of Naples offer something for everyone.
Take your time as you explore the variety of real estate in this irresistible part of Florida's Gulf Coast. While stunning beaches and exceptional water views are present throughout Naples, you'll soon find that each area has its own unique charms.


At the Hoffman Korff Group, we are experts in premiere residential properties in Naples, Florida. If you are in the market for a luxury home, a beach house or condominium in the area, allow us to help you find your dream property. As long-term Naples residents, we bring decades of experience to help you find the Naples, Florida luxury real estate that works best for you.